If having trouble, view in BROWSER.
The Lenten Way of the Cross Journal
The Way of the Cross Journal is a series of unique, reflective images of the Via Dolorosa, telling of Jesus' journey toward death and resurrection. At each station, as witnesses along the Way, we are invited to reflect on the scripture, meditate and pray.

Uses:

Prayer Groups

Private Meditation
Jr-Sr High School Students
Parish Lenten Programs
Home-bound Adult Parishioners
Days of Recollection
Regularly

Take

25% Discount

on Way of the Cross Journal prices

until

March 31

Use these prices until 3/31

Special 25% Discount

5 to 10

1.58 ea.

11 to 25

1.43 ea.

26 to 99

1.28 ea.

100 +

1.12 ea
Sample thumbnail pages below (32 pages, 5.5 by 7 inches)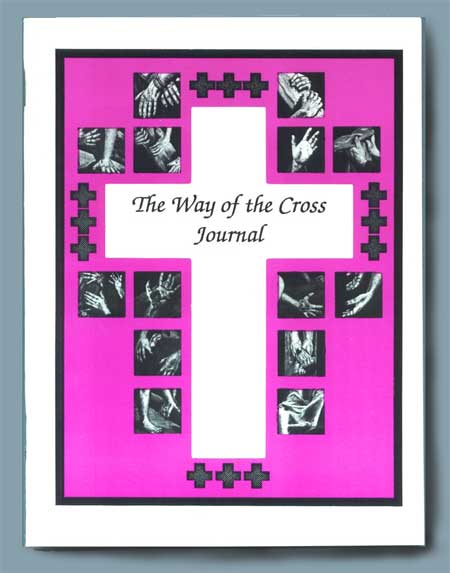 Also Available as a MasterSet.
Stations of the Cross Master Set
The Stations can be displayed in the lobby or foyer of the Church, School, or Parish Center. They can be posted on a bulletin, wall of a classroom, corridor or hallway. These are the same images as depicted in The Way of the Cross Journal and can be used for a communal praying of the Stations.
Download Lenten Resources ORDER FORM
for Journals, Pins, and hard copy MasterSets.
For more INFORMATION or to ORDER Blackline Master Sets, Journals, or Cloisonne Pins:
Write: JP II Resources, PO Box 1214, Linden, NJ 07036
e-mail: click here

Voice: 908-862-4804 Toll Free Fax: 866-756-2145
Return to: Catalog Page Online MasterSets Page