The Millennium Pin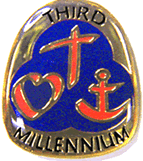 Actual size is approx 7/8 inch square.
View photo of this and other lapel pins.
Commemorative gift for:

All Christians
All occasions
All celebrating Faith, Hope and Love

The boldly printed "Third Millennium" makes this pin a period piece souvenir. The symbols of Faith (cross), Hope (anchor), and Charity (heart) are in red, outlined in gold. The blue Trinitarian symbol provides the background support.
Quantity Discount Rates

Quantity

Unit price

single pin

$3.25 ea.

5 to 10

$2.75 ea.

11 to 25

$2.40 ea.

26 to 50

$2.20 ea.

51 or more

$1.95 ea.

Download printable Pin Order Form

To order: Blackline Master Sets, Journals, and Cloisonne Pins:

Write: JP II Resources, PO Box 1214, Linden, NJ 07036
To e-mail: click

Phone: 908-862-4804 Toll Free Fax: 866-756-2145