The One Nation Under God Pin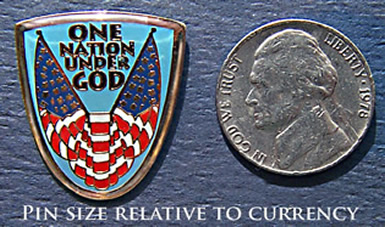 Actual size is approx 3/4 inch square.
View photo of this and other lapel pins.
Unique gift for:

Teachers & Catechists
Classroom aides, volunteers
National holidays
General awards
Veterans

A world besieged by terror and hopelessness requires nations to acknowlege God's sovereignty. Two American flags on a field of light blue embrace the words, "One Nation Under God." The pin, motto, and flag are outlined in gold.
Quantity Discount Rates

Quantity

Unit price

single pin

$3.25 ea.

5 to 10

$2.75 ea.

11 to 25

$2.40 ea.

26 to 50

$2.20 ea.

51 or more

$1.95 ea.

Download printable Pin Order Form

To order: Blackline Master Sets, Journals, and Cloisonne Pins:

Write: JP II Resources, PO Box 1214, Linden, NJ 07036
To e-mail: click

Phone: 908-862-4804 TOLL FREE FAX: 866-756-2145