The "Remember Me" Pin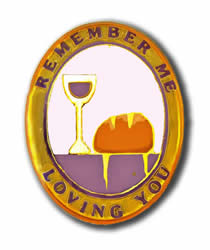 Actual size is approx 3/4 inch square.
View photo of this and other lapel pins.
Timeless gift for:

Ministers of the Liturgy
Priests, deacons
Teachers and catechists
Eucharistic Ministers
Special friends

This oval shape pin is reminiscent of an antique broach. Set in the gold rim are dark mauve letters with the words, "Remember Me" on the top and "Loving You" at the bottom. The symbols of Jesus-- bread, wine, and the altar-- are expressed as a glass of wine, a loaf of bread, and a table.
Quantity Discount Rates

Quantity

Unit price

single pin

$3.25 ea.

5 to 10

$2.75 ea.

11 to 25

$2.40 ea.

26 to 50

$2.20 ea.

51 or more

$1.95 ea.

Download printable Pin Order Form

To order: Blackline Master Sets, Journals, and Cloisonne Pins:

Write: JP II Resources, PO Box 1214, Linden, NJ 07036
To e-mail: click

Phone: 908-862-4804 Toll Free Fax: 866-756-2145